Registration open for the 2023 Grand Blue Mile presented by Wellmark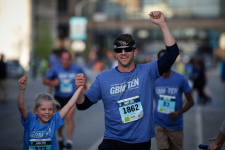 February 14, 2023
Two-day flash sale $10 registration for 14th edition, a Midwest spring tradition
From Grand Blue Mile / Wellmark
Registration for the 2023 Grand Blue Mile presented by Wellmark Blue Cross® and Blue Shield® opens today with a two-day, $10 flash sale. Again, this year, registrants have the opportunity to participate virtually or in person on Tuesday, April 25 in downtown Des Moines, coinciding with the 113th edition of the Drake Relays presented by Xtream® powered by Mediacom®.
"Since the very beginning, the Grand Blue Mile presented by Wellmark has focused on encouraging individuals and families across Iowa get moving and embrace simple, sustainable healthy habits," said Chris Verlengia, Wellmark's marketing activation & alliance manager and Grand Blue Mile co-race director. "The positive link between physical activity and overall well-being is proven, and Wellmark — through targeted efforts and strong community partnerships like this one — remains deeply committed to the communities we serve. We hope every participant who crosses the finish line keeps moving toward a future of better health."
"Wellmark and the Drake Relays presented by Xtream look forward to again hosting America's top Milers, fitness enthusiasts, runners and walkers alike," said Blake Boldon, Franklin P. Johnson Director of the Drake Relays. "We're excited to continue offering this special event in a way that ensures all Iowans can join in the fun in the setting that suits them best, whether that's in their own hometown or engaging with thousands of other Grand Blue Mile participants, fans, and spectators on the streets of downtown Des Moines."
Registration for the Grand Blue Mile presented by Wellmark is now open at GrandBlueMile.com. The $10 flash sale ends promptly at 11:59pm on Wednesday, Feb. 15, after which, regularly priced youth registration is $15, and adults are $20. As part of Wellmark's commitment to improving the health of Iowans, all proceeds benefit Iowa Kidstrong youth fitness programs and support student participation in the annual Drake Relays.
T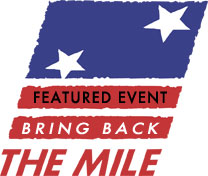 he 14th edition of the Grand Blue Mile also returns as a Bring Back the Mile Featured Event, showcasing America's best Mile races throughout the year, and again hosts the USATF 1 Mile Road Championships.