Ripley's Starcher breaks Mile record at Penn Relays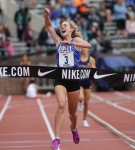 April 27, 2019
"My workouts have been very awesome lately. I felt strong and healthy coming into the race. It was just all about competing and trying to run a really good time."
By Greg Carey, MetroNews
Ripley High School junior Victoria Starcher made the most of this year's trip to the Penn Relays, running a meet record 4:38.19 Mile to finish first on Thursday evening in Philadelphia.
Along the way, Starcher set a West Virginia state record in the process, and she also became the 10th fastest U.S. high school girl all-time (#6 HS-only race) for the storied distance.
"This is such a prestigious meet and being able to do it here, it's so incredible, along with the meet record," Starcher said. "I was really hoping to go under 4:40, but I didn't know if it was going to be here.
"I was hoping to compete. I saw once I crossed the line that I was under 4:40. I was just ecstatic."
Starcher's showing broke the previous meet record from 2012 held by former teen phenom Mary Cain (4:39.28).
She outlasted Marlee Starliper of Northern (Pa.), who finished in second place at 4:42.30.
One year ago, Starliper won the Mile at the famed event at Franklin Field, while Starcher was runner-up.
Continue reading at: wvmetronews.com