Rob Napolitano: Columbia's sub-4 minute man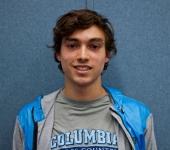 April 02, 2016
"The race itself was … in the back of my head pretty soon after, but the few hours after the race were definitely more important and special. It had been a goal for a while."
By Kayla Levy | Spectator Staff Writer
Rob Napolitano ran nearly 13 seconds slower than his Mile personal record at the NCAA Indoor Championships in mid-March, but he's still convinced this race was harder than his record-setting performance a month earlier.
The junior finished 14th out of 16 runners at Nationals with a time of 4:11:78, far short of his 3:58.98 mark at the 2016 Fasttrack National Invite.
"[In] breaking four [minutes] … I had one job to do, and was going to go as hard as I could from the start," Napolitano said. "[With Nationals], you're thinking, and you're pacing, and you're shoving people."
The pack was slower overall at this year's Nationals, held in Birmingham, AL—no one ran a sub-4 minute time in the preliminaries or the final Mile, despite the field having runners that had beaten that benchmark in qualifying.
Continue reading at: http://columbiaspectator.com