Robby Andrews Wins First USA 1500m Title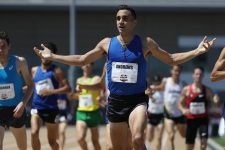 June 24, 2017
Jenny Simpson four-peats in Sacramento; third place surprises for London World Championships qualifier
From David Monti, @d9monti
© 2017 Race Results Weekly, all rights reserved.
SACRAMENTO, Calif. – With mid-afternoon temperatures inside of Hornet Stadium hovering at about 100F / 38C, Robby Andrews kept his cool in the men's 1500m final at the USATF Outdoor Track & Field Championships on Saturday. Timing his final sprint to perfection, the 26-year-old Olympian picked up his first national outdoor title and locked in a provisional team berth for the IAAF World Championships in London this August.

"It feels really good to (finally) win a race," a smiling Andrews told the media post-race.

Andrews, who represents adidas, finished second at last year's Olympic Trials in the same discipline, behind eventual Olympic champion Matthew Centrowitz of the Nike Oregon Project. But Centrowitz had been struggling recently to overcome several health problems before these championships and revealed that after a period of light cross-training he had only been running for ten days.
Nonetheless, Centrowitz was the race leader as the 13-athlete field ran through the finish line for the first time, but the pace was predictably slow. Clayton Murphy of Nike, the 2016 Olympic 800m bronze medalist, was tucked into the pack while Andrews was at the back with another podium contender, Ben Blankenship of Nike OTC Elite, who would make the most important move of the race, surging hard at the bell.

"I really thought with the heat and everything I would be able to close well," said Blankenship.
Centrowitz immediately followed, and the two Oregon-based athletes charged down the backstretch while the rest of the field scrambled to catch up. Andrews, who was in fifth position at the bell, thought about the conversations he had with his coach, Jason Vigilante, prior to the race and knew what to do.
Continue reading at: http://runnersweb.com