Run Tucson Announces Inaugural "Friday Night Festival of Miles"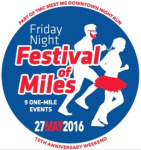 March 22, 2016
Tucson Tutu Mile and RRCA Arizona State Championship Mile on May 27 part of 10th Anniversary of TMC Meet Me Downtown 5K Night Run and Walk and Bring Back the Mile Featured Event 2016
From Run Tucson
Run Tucson and the Southern Arizona Roadrunners are pleased to announce a full weekend of running events on Memorial Day Weekend, May 27 and May 28, 2016. The 10th Anniversary of Arizona's most popular hometown race, the TMC Meet Me Downtown 5K Night Run, will now include the "Run Tucson Friday Night Festival of Miles" on Friday night, May 27th.
"I love the Mile," says race director Randy Accetta. "It's the perfect distance: you can race it, you can walk it, and kids with grandma and grandpa can do it. And because we're committed to highlighting the community nature of our sport, the distance lets us reach the entire spectrum of the running and fitness community."
Featuring nine separate divisions of one-Mile events, the Festival of Miles is a "Featured Event" in the acclaimed "Bring Back the Mile" national campaign, founded by Ryan Lamppa. Showcasing America's best Mile events throughout the year, BBTM is a national movement celebrating and promoting the storied distance.
The Friday Night Miles are the RRCA Arizona State Mile Championship, and will have more $2000 in incentive-based and age-group prize money, including a "Race Director Challenge," in which men and women can earn an additional $408.90 if they beat the race director's Mile PR (the women's time is adjusted). The Saturday Night Run 5K is the RRCA West Regional Championship and will have $4000 in incentive-based prize money.
Planned races in the Friday Night Miles include separate categories for male and female in the following age-groups: Under 12, High School & Teen Mile, Open, Masters, Tucson Tutu Mile, and a Battle of the Badges, in which civil servants from local police and fire departments, sheriff, border patrol, and military will have a chance to compete against one another.
Additional festivities on both nights include live music on the course; stilt walkers, fire show and family activities including a free entry to the Children's Museum; the fourth annual "Food Truck Running Race Round-Up"; Junior League Beer Garden; and the 10th annual after-party at the historic Hotel Congress. Hotel discounts will be available at nearby Tucson resorts and nearby hotels and motels.
An RRCA Coaching Certification course will also be held in Tucson on race weekend.
About Run Tucson
Founded by Randy and Tia Accetta, Run Tucson is a full service event and coaching entity producing running events on behalf of the Southern Arizona Roadrunners. With coaches certified by the Road Runners Club of America, Run Tucson manages Arizona's longest-running coached training group, the Workout Group.
About the Southern Arizona Roadrunners
Arizona's longest-standing running club, SAR is a member of the Road Runners Club of America. The Southern Arizona Roadrunners is a not-for-profit organization dedicated to promoting health and fitness in Tucson and Southern Arizona through running and walking.