Running in the Family: Kate Grace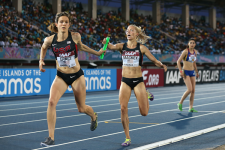 October 23, 2014
Mother Kathy Smith, fitness icon, "has been the ultimate role model for my track career."
By SPIKES powered by IAAF
Kate Grace is the 2013 USA Road Mile champion and a World Relays 4x1500m silver medalist, but she's still only the second most famous person in her family. Her mother, Kathy Smith, is a fitness icon, and has sold more than 16 million fitness videos. Kate tells us how her mother helped shape her career.
"For as long as I can remember, my mother always encouraged me to be active. She would take us on long hikes, so maybe from a young age the thought of going on a long run, to me, wasn't such a scary thought.
"I played soccer and basketball when I was younger before later getting into cross country. My mother also had a background in running. She ran the Hawaii Marathon back in the 1970s in a decent time of 3:40, so it was cool to hear stories of how she trained for the race.
"My mother certainly never pushed me into running and she left it to the coaches as to the way I trained, but she was a big help to me in the way I mentally prepared for big races.
"I used to get very nervous, but she would show me how to do different exercises involving vocal and physical cues of how to handle nerves and how to perform while nervous. It had a major benefit in helping calm me down and focus before a race. During college I feel these exercises allowed me to perform to a standard in races above my training levels."
Continue reading at: http://spikes.iaaf.org