Running the "Nearly Naked Mile"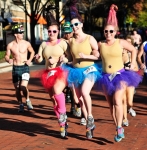 November 12, 2013
Third edition draws more than 800 runners who were feeling comfortable in their own skin
By Kevin Ambrose, Washington Post
As a runner, I follow the schedule of road races in the Washington, DC area fairly closely. When I saw the Nearly Naked Mile advertised by Potomac River Running, it caught my attention.
The race was touted as "family-friendly nearly naked" and was scheduled for Saturday, November 9 in Reston Town Center, Virginia. The race organizers said, "don't be afraid to get creative and have FUN!"
I immediately wondered, why is the race held in November? Wouldn't running nearly naked in July or August be a little more comfortable? Running nearly naked through early season snow showers or in a November nor'easter might be slightly unpleasant.
I enjoy new challenges so I signed up for the race. I also asked Potomac River Running for an interview to find out more about the race and to inquire why it's a race run in the fall.
Continue reading - includes event photos - at: www.washingtonpost.com