Ryan Hill Finds His Identity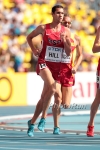 December 17, 2013
After "abandoning" the Mile, Hill discovered his strength in the 5000
By Joe Battaglia for Running Times
Since his adolescent days in North Carolina, Ryan Hill has been trying to figure out exactly what type of athlete he should be.
As a child, Hill's sport of choice was baseball, but he soon realized he wasn't big enough to be competitive on the diamond. At age 12, in the summer before seventh grade, he turned to an athletic strength. "I was always good at the Mile run in school, so it just seemed natural to try and run track," Hill says.
Although he had speed, Hill quickly discovered that the longer the race, the more competitive he was. By the time he graduated from Hickory High School, not only had he won the Foot Locker South Regional title, but he had also won two North Carolina titles on the track at 1600m and 3200m.
When he got to North Carolina State University and the program headed by famed coach Rollie Geiger, Hill continued to excel at middle to long distances. He was a 10-time All-American in cross country and indoor and outdoor track, and he won seven Atlantic Coast Conference titles at distances from 1500m to 10,000m.
Continue reading at: www.runningtimes.com