Sara Vaughn competes on a shoestring, but that didn't keep her out of the World Indoor Track & Field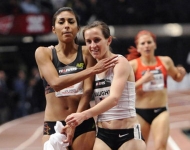 March 28, 2012
By Ken Goe, The Oregonian
Beaverton resident Sara Vaughn (right) pictured here at last winter's U.S. Open indoor meet in Madison Square Garden.
Sara Vaughn scrambled onto Team USA for this year's World Indoor Track & Field Championships in Istanbul.
Now we'll see what the 25-year-old mother of two can do outdoors.
Vaughn's husband, Brent, runs for Oregon Track Club Elite/Portland. But Sara is unsponsored -- unless you count the low-key deal she has with the Nike-based Bowerman Athletic Club.
"It kind of goes back to me being in this weird, post-collegiate place," said Sara Vaughn, who ran in college for Colorado and made the 800-meter semifinals at the 2008 U.S. Olympic Trials.
"I'm not old, but I'm a little bit older. I didn't have a shoe deal -- I couldn't get a shoe contract after I got pregnant with our second kid. Adidas dropped me. The Bowerman Athletic Club were the only people to offer anything, and it was like shoes and $500."
Read complete article at oregonlive.com