Saucony Announces Freedom Track Club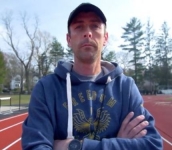 September 20, 2017
Coached by 2004 U.S. Olympian Tim Broe, the Boston-based team is dedicated to helping talented runners progress to world class status in pursuit of their Olympic dreams
From Saucony
WALTHAM, Mass. – Saucony, a leading global running lifestyle brand, announced it will expand its commitment to athlete development with the launch of the Saucony Freedom Track Club, a Boston-based elite running group dedicated to developing future Olympic hopefuls. Saucony will support the newly formed team with a full ensemble of resources, including local housing and full access to the Saucony Human Performance and Innovation Lab, a state-of-the-art facility that helps athletes perform at their highest level. The Freedom Track Club will be coached by 2004 U.S. Olympian Tim Broe, who will also act as the club's program director.
"The mission of the Freedom Track Club aligns with that of the Saucony brand: to empower the human spirit through running," said Patrick O'Malley, president of Saucony. "We know that running can be transformational and we're committed to helping each of these talented athletes 'run their world,' further maximizing their true potential in order to compete with the best in the world.
"In planning for their success, it was critical to identify a person who could lead, inspire and understand the athlete's journey. Tim Broe's own competitive background combined with his coaching expertise will empower our team of rising stars, helping them to further identify and achieve their running goals. At the same time, these athletes who share the core values of the Saucony brand will help us push innovation and performance higher and faster. We're a great fit and I'm looking forward to a long and lasting partnership, accomplishing great things together, both on and off the roads, tracks and trails."
"The Freedom Track Club further reinforces the brand's Run Your World message: to live with purpose and intent, to take ownership of your own journey and the world around you," said Amanda Reiss, chief marketing officer for Saucony. "These athletes are doing just that, making the unwavering commitment to fulfill their Olympic dreams. We look forward to highlighting their journey with inspiring content and storytelling all the way to Tokyo 2020."
The Freedom Track Club will be an integral part of the Saucony brand, assisting with product development, offering biomechanical insight and sharing their experience and progress with the brand's online running community. Additionally, the team will be working with the Saucony Run for Good Foundation, inspiring and mentoring youth to live healthy and active lives.
In addition to receiving professional coaching, the club will be supported by a panel of experts, including a team physician, strength coach, nutritionist, personal development coach, and physical and massage therapists. The athletes will have access to the brand's in-house fitness center as well as a dedicated "athlete's village" within Saucony headquarters where they can meet and collaborate with the Saucony team on a daily basis. The Freedom Track Club will celebrate their official kick-off at a fall training camp on Martha's Vineyard in Massachusetts.
"On behalf of the whole Freedom Track Club, we're very excited to be on board with Saucony and appreciate the incredible opportunity to be part of a brand that values runners of every level," said Tim Broe, Saucony Freedom Track Club program director & coach. "Saucony already has a legacy of sponsoring some of the fastest runners in the world. This team, aside from all of their athletic accomplishments, is a fiercely independent group of young people who embrace the work it takes to make world teams. I know the brand's emphasis on performance and innovation, evident in their award-winning footwear and apparel, will surely help all of these aspiring athletes achieve their goals."
Broe, a 2004 Olympian in the 5000m as well as the 2004 Olympic Trials 5000m Champion, is a three-time USA Outdoor 5000m Champion; three-time USA Cross Country Champion; 2002 USA 8K Champion; 2004 USA 5K Champion; former American 3000m indoor record holder and 12-time NCAA All-American at University of Alabama. Broe is presently head coach of the boys & girls cross country teams at Wellesley High School in Wellesley, Massachusetts.
The eight athletes presently signed to the Saucony Freedom Track Club are:
Molly Seidel, Nashotah, WI
Notre Dame University
2016 NCAA Indoor 3000m & 5000m Champion; 2015 NCAA Outdoor 10,000m Champion; 2015 NCAA XC Champion
Helen Schlachtenhaufen, Lake Forest, IL
Dartmouth University
2-time HEP Champion
Paige Kouba, Eugene, OR
Harvard University
3-time HEP Champion
James Randon, New Canaan, CT
Yale University
First Yale athlete to go sub-4 minutes in the Mile (3:58.85 in 2016); 3-time HEPS Champion; 2016 NCAA Outdoor 1500m Championships (8th)
Tim Ritchie, Worcester, MA
Boston College
2016 U.S. Olympic Marathon Trials qualifier; Winner 2015 Rock n' Roll Philadelphia Half Marathon
Brian Shrader, Flagstaff, AZ
Northern Arizona University
2014 USA 12K Champion
Tommy Curtin, Leesburg, VA
Virginia Tech
2017 USA Outdoor Championships 5000m (6th); Winner 2017 Tracktown Summer Series 5K
MJ Erb, Victor, NY
University of Mississippi
2-time SEC Champion; USA Outdoor Championships Steeplechase (7th); 2016 NCAA XC Championships (6th)
For more FTC click HERE.