See, Gregson Win Michie Tavern Downtown Mile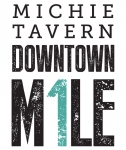 July 24, 2013
Inaugural event delayed by lightning in Charlottesville, VA
By Fritz Metzinger, The Daily Progress
As a gaggle of spectators gathered around the finish line of the inaugural Michie Tavern Downtown Mile on Wednesday evening, one question permeated the group with the clock still showing less than 4 minutes.
They can't already be here, can they?
Sure enough, they were. After Jeff See of Spartanburg, S.C. ousted two other frontrunners to conquer a talented men's field with a time of 4 minutes, 8 seconds, his girlfriend Heidi Gregson smoked an equally formidable female field, crossing the line about a half-minute later to win matching $1000 prizes.
The race started with a bang — literally. Minutes before the opening gun was set to go off at 7:00pm, a brilliant lightning strike and bone-rattling thunder clap prompted race director Mark Lorenzoni to postpone the start. A few minutes later, the lightning had subsided enough for racers to be able to compete in a light, refreshing rain. Still, according to See, the wet conditions shaped race tactics.
"With the rain, that kind of changed the strategy a little bit," See said. "You had to be a little more cautious."
For See, a six-time All-American at Ohio State from 2005-10 and the Mile winner at the 2011 USA Indoor Championship, that blazing 4:08 time actually fell a little short of his personal record (on a track) of 3:55.24. Unsure of who would challenge him and wary of the unusual number of turns for a Mile course — runners started at Lee Park and turned left onto Park Street, East High Street, and Second Street NW before finishing along the Downtown Mall to the Pavilion — See took a measured approach before hitting another gear in the final third of a Mile.
"You just kind of want to feel it out," See said. "You don't really know who's all going to be in the race and what kind of shape everybody's going to be in, so you've got to make sure you leave a little bit of something for the end."
Despite the tortuous path, See enjoyed the course and the atmosphere. Both he and Gregson have visited the Charlottesville area before and enjoyed running in one of the city's signature spots.
"It was very cool that they kept everyone in close proximity," See said. "Fans all over the place.
"…Downtown's always a nice area to run."
As impressive as it was to watch See gallop to the finish, Gregson's 4:39 masterpiece was electrifying. The former Iona standout mimicked her boyfriend's prudent strategy, running alongside local powerhouse Rachel Rose before pulling away for the victory.
Continue reading at: www.dailyprogress.com