Seniors, students alike enjoy Mile race at Mt. Lebanon's Asbury Heights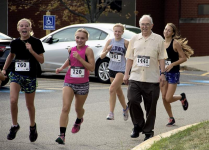 September 23, 2015
Employee wellness program at a senior living facility turned into an annual event for employees, residents and the community.
By Harry Funk, The Almanac
Taking a leisurely pace along the Mile course, Dan Geier and Paul Blake didn't mind that some others finished it quite a bit before them.
"If you run fast," Geier explained, "you don't get to enjoy the scenery."
They were among the participants in the fourth Annual Golden Mile race at Asbury Heights Senior Living Community in Mt. Lebanon, completing their walk in 21 minutes.
"I got a new knee 10 weeks ago," Blake, an 82-year-old Pleasant Hills resident, said, adding to the other new one he received four years ago. "It works well."
The race is open each year to anyone who wants to participate. For the past two years, that has included members of the Baldwin High School cross country teams.
"They asked us to come back this year, and we're more than happy to do it," said Bunny Schmidt, who coaches the men's team. "Not only do they get a chance to do a good workout, but they help with the Asbury Heights residents."
Continue reading at: thealmanac.net