Serafini secures first sub-4 Mile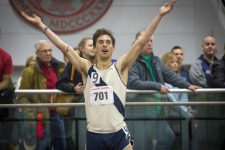 April 29, 2018
"I knew I broke it, but all I wanted to do was lay on the track in relief. I was riding that high for three, four weeks."
By Mike MacAdam, The Daily Gazette
It started out as a milestone to pursue; it became a millstone around his neck.
The mystique grabbed hold of Lou Serafini when he was a sophomore at Niskayuna High School in 2007.
Running against Shenendehowa senior Zach Predmore in the 1600 meters at the Suburban Council Championships at Colonie High, Serafini finished second with a time of 4 minutes, 22.50 seconds.
That planted the idea to chase a sub-4 minute Mile, one of those legendary sports achievements that strikes a chord with people. With two more years of high school, then college, it seemed like a worthy goal within reach, someday.
But through four years at Boston College, Serafini still had not added his name to the list that began in 1954 when Roger Bannister ran 3:59.4 at Oxford University in England.
"I had pretty much given up on that distance," he said. "I got burnt out on it in college. I was so frustrated with the distance. I ran between 4:08 and 4:13 23, 25 times. I got to the point where even the sport of running was tough to do."
So you can understand and appreciate his reaction on Feb. 25.
The 26-year-old Serafini was ready to move on from the Mile, concentrating on longer distances, but not before taking one more crack at the elusive goal that at first had inspired him, then grew to haunt him.
And now the millstone is gone, after Serafini ran a 3:59.33 at the appropriately named Last Chance Meet at Boston University.
Continue reading at: dailygazette.com