Staples' graduate Wynne breaks 4-minute Mile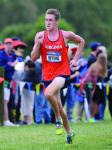 February 01, 2016
"To finally do it is just an incredible feeling. When you look up on the scoreboard and you see your name and you see the time you did, it becomes real."
By Bob Birge, The Hour
When Henry Wynne was winning cross country and track championships at Staples, Wreckers' coach Laddie Lawrence predicted that some day his prized pupil would run a sub-four minute Mile.
That day came on Saturday at the John Thomas Terrier Invitational on the campus of Boston University.
Wynne, a University of Virginia junior, clocked a time of 3:58.74, the second-fastest Mile mark in the history of the Cavaliers' program.
Continue reading at: www.thehour.com