Stockbridge Valley CSD kicks off 'Monday Mile'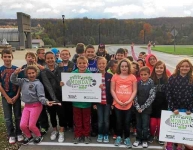 October 26, 2016
Local school and students encouraging everyone to "kickstart" their Monday with a Mile walk.
By The Oneida Daily Dispatch
Stockbridge, NY - Students, teachers, and administrators from Stockbridge Valley Central School went outside in the brisk morning air to kick off their own Monday Mile.
The Monday Mile is a new initiative of the Live Well Madison County Committee, which is supported by the Madison County Rural Health Council.
Heather Bernet, a member of Live Well Madison County, explained how the initiative was designed to help participants make active lifestyle choices in a way that is more likely to encourage positive, repeated behavior.
"The Monday Mile is simply a way for you, your family, and your school to become more active." Bernet said to the gathered Stockbridge Valley Central School family. "Research has shown that people view Monday, more than any other day of the week as a day to kickstart healthier choices and behaviors. Starting off your week by simply walking a Mile can help you to be active all week long."
Continue reading at: www.oneidadispatch.com