Stronger Gregson learns hard way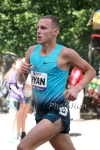 October 07, 2013
Australia's 3:52 Miler looks to medal at 2014 Commonwealth Games in Glasgow
By Mitch Jennings, Illawarra Mercury
Bulli Olympian Ryan Gregson will take a stronger mind and body into next year's Commonwealth Games in Glasgow after learning some tough lessons from last year's London Olympics.
Gregson (right, PhotoRun), Australia's metric Mile record holder (3:31.06), finished last in the 1500m semi-finals in London and said a desire to put the performance behind him led him to push his body beyond its limits in the ensuing 2013 season.
"I had a bit of a down year," Gregson said.
"I was so determined to get back in 2013 and do well just because I was so disappointed at how the Olympics turned out.
"I was trying to move on as quick as possible and that probably led to a few issues because I was so eager to turn things around."
The post-Olympics season began well before a mystery virus laid him low for the remainder of the year.
Continue reading at: www.illawarramercury.com.au