Sub-4:00 Miler Jordan McNamara Inspires Pittsburgh's Youth to Run GNC Live Well Liberty Mile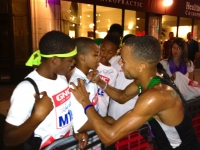 July 22, 2013
McNamara using social media to connect with youth as Honorary Coach of the Summer Dreamers Academy
From GNC Live Well Liberty Mile
PITTSBURGH - As Jordan McNamara sets new personal records and impresses fans in European races this summer, he shares his excitement through Twitter, Facebook and Instagram. He will use these same social media channels to inspire young runners in Pittsburgh, Pa. who are training for the GNC Live Well Liberty Mile on Friday, August 9.
Last year's runner-up in 3 minutes, 59.1 seconds, McNamara, 26, will serve as the honorary coach for the Summer Dreamers Academy, a Pittsburgh Public Schools program that includes a youth summer running component. Nearly 180 elementary and middle school students in the program will receive coaching, training plans and running gear. As McNamara travels throughout Europe, he will send instructional and motivational videos to the students who will complete a 5-week training program.
After the kids complete their training, they will get the opportunity to run in the GNC Live Well Liberty Mile and then cheer on McNamara, a top contender in the professional heat, along with other top American Milers.

"I'm excited to work with the kids this summer and inspire them to get involved with the sport I love," McNamara said. "It's important for me to give back to the running community and I had such a great time meeting the kids in Pittsburgh last year that I'm excited to come back. The GNC Live Well Liberty Mile is an awesome event to introduce new runners to the sport."
Last year, McNamara met the kids in the program a few days before the race to share his excitement for the event; they in turn challenged him to buy them pizza if he won. McNamara again will meet with the kids and celebrate their final training run during race week.
Event sponsor Elite Runners and Walkers, a local running retailer, and the Pittsburgh Three Rivers Marathon, Inc., organizers of the GNC Live Well Liberty Mile, will provide the students with new running shoes, socks and a training t-shirt.
"As a rising star in the Mile, Jordan is a perfect ambassador for the GNC Live Well Liberty Mile," said Patrice Matamoros, executive director of Pittsburgh Three Rivers Marathon, Inc. "Jordan has a great social media presence and knows how to inspire runners and non-runners alike with his photos and videos. We look forward to inspiring a new generation of athletes with this partnership."
McNamara has had a successful summer on the European track circuit setting a 1500 meter personal record of the 3:34.00 at the Memorial Leon Buyle in Oordegem, Belgium on July 6 and then a week later on July 13 winning the KBC Nacht meet in Heusden, Belgium in 3:35.39 outkicking the 2012 Olympic bronze medalist.
Follow Jordan's tips on Twitter at @LibertyMile and see his videos at http://www.youtube.com/LibertyMile.
About the GNC Live Well Liberty Mile
Organized by Pittsburgh Three Rivers Marathon, Inc., the GNC Live Well Liberty Mile is Pittsburgh's premier street race for all ages and abilities. The GNC Live Well Liberty Mile offers a $31,100 prize purse with $4000 for each Open race champion. The event, the 11th stop on the inaugural Bring Back the Mile Tour, is also hosting the 2013 USA Masters 1 Mile Road Championships.