Sub-4 HSer Michael Slagowski Has Left Penn State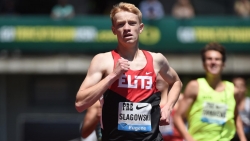 March 21, 2017
"The overall transition, including the changes in training, was difficult. I was also struggling with recovering from my injury which kept coming back and is keeping me from running for another few months."
By Johanna Gretschel, FloTrack
Michael Slagowski, who last year became the 9th U.S. high school boy to break 4 minutes in the Mile, is no longer at Penn State. He does not currently have plans to transfer to another school.
The freshman from Meridian, Idaho is no longer listed on the Nittany Lions' roster. Both Slagowski and PSU head coach John Gondak confirmed that he is no longer enrolled at Penn State.
Slagowski said via text message that he has not yet decided what his next move is.
"I currently don't have plans to transfer to another school, but I'm keeping my options open. I'm thinking of training in Boise with my high school coach and possibly a training partner, and just taking classes at a school in the area."
Continue reading at: http://www.flotrack.org