Ten Great Irish Runners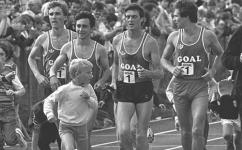 March 17, 2015
The small island nation has produced world and Olympic champions and world record holders including the still standing 4x1 Mile world record from 1985.
By Scott Douglas, Runner's World
In celebration of St. Patrick's Day, here's a brief celebration of the rich history of elite Irish distance running.
As a force on the world scene, Irish distance runners' best period (to date) was the 1980s. There was a 5000 meter world championship, an Olympic Marathon silver medal, regular Mile victories on the international circuit and a world record in the 4 x 1-Mile relay.
As happened with many European countries once East African runners began dominating distance running, there's been a falling off since that heyday. But Irish running isn't stuck in the '80s. The best women runners in Irish history were active in the 1990s and 2000s. The son of one of the country's running legends is a sub-4:00 Miler, and the men's national 5000 and 10,000m records were set this century.
Continue reading at: www.runnersworld.com