Terre Haute has connections to the Mile run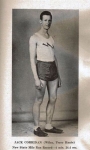 April 07, 2016
Wiley High School's Jack Corridan set a new Indiana state meet record in 1923 with his Mile time of 4:24.4.
By Craig Pearson, Tribune-Star
There was a segment of coaches that proposed switching to the Mile outdoors, at least partly as a celebration of the history of that event in American track & field lore. There's actually a website called BringBackTheMile.com.
While that has created "buzz" and some traction, it's still worthwhile to look back at the outdoor Mile's past, particularly Terre Haute's relevance in the event.
A couple of runners rise to the top.
Jim Ryun made an appearance at Marks Field during his climb to fame in the 1960s. Ryun did not compete in the Mile that weekend in 1966 but the 19-year-old did set a new world record in the 880-yard run (half-mile). He had created a buzz two years prior when setting an American record as a high schooler in California.
Continue reading at: tribstar.com