Testing Manchester Mile Seen as a Battle of the Best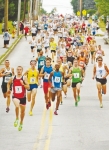 July 01, 2013
By John Habib, New Hampshire Union Leader
A week after he posted his personal best time by almost a full second in the 800 meters at the USA Outdoor Track & Field Championships in Des Moines, Iowa, Brian Gagnon of Lowell, Mass. is hoping to rewrite the record book in the Queen City.
Gagnon will be the favorite to win and break his own course record Wednesday in the third annual Hinckley Allen Manchester Mile, billed as the "fastest Mile in America." The Mile run is set for 8:00pm, following the companion 5-kilometer race, which is scheduled to start at 7:00pm.
Both race courses start near Derryfield Park on Bridge Street and finish at the base of the hill, next to Pulaski Park. The 5K includes a loop through a local neighborhood and the park.
The starting times were set to lead into the city's annual Fourth of July fireworks, scheduled to begin at 9:30pm.
The Mile course has a sloping 188-foot drop in elevation at the start, producing some sub-4-minute times by a field of elite runners such as Gagnon. In 2011, Gagnon, a former University of Connecticut All-American, set the Manchester Mile course record of 3 minutes, 43.99 seconds.
Continue reading at: unionleader.com