The 18th Century four-minute Mile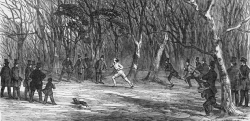 May 12, 2014
Roger Bannister was credited with being the first person to run a Mile in under four minutes - but 18th Century runners are reported to have got there first. Why are they not recognised?
By James Fletcher, BBC
It was 9 May, 1770 when James Parrott, a costermonger, stood at the Charterhouse wall on Goswell Street, London. He was getting ready to run. For money.
A wager had been made that Parrott could not run a Mile in under four and a half minutes. If he could, he stood to win 15 guineas - a substantial sum for a man who may only have earned around 50 guineas a year selling fruit and vegetables from a street barrow.
With money on the line, it's likely that umpires on both sides carefully checked the watches, locked them in a box to prevent tampering, and placed them in a horse-drawn carriage that would make sure they reached the finish line ahead of the runner.
Continue reading at: www.bbc.com