The Brawl on Nicollet Mall!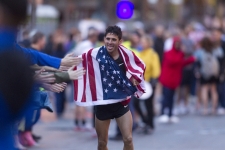 May 07, 2014
From Twin Cities In Motion
> Medtronic TC 1 Mile Pick-the-Winner Contest (open until Thursday, 3:00pm PST)
Minutes after Olympic silver medalist Nick Willis broke David Torrence's Medtronic TC 1 Mile course record last year, Torrence formally declared that he would take his record back in 2014. The friendly call-out – Torrence congratulated Willis as well, it should be noted – departed from distance running's typically non-confrontational code.
Wondering what the sport would look like with a bit more of boxing's swagger, we asked Willis and Torrence to take their gloves off and raise the rhetorical volume ahead of their upcoming duel at Thursday's Medtronic TC 1 Mile. We're dubbing the battle between the defending champion and course record holder (Willis) and the event's lone three-time champ (Torrence) the "Brawl on Nicollet Mall."
Here's how our two champs – tongues firmly in cheek – weighed in before the race:
David, level with us, didn't you find it sneaky that Nick Willis chose to race the Medtronic TC 1 Mile in a year when you didn't compete?
Torrence: Yes, it was very sneaky. Extremely typical of a New Zealander. A real challenger would have declared the assault on my record, allowing a response for me to defend. But he struck when my back was turned. I should have expected nothing less from a Kiwi.
Continue reading at: www.tcmevents.org