The man, the myth, the legend: Steve Scott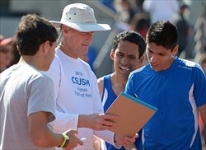 April 29, 2016
Scott's perseverance and dedication to the sport of running has helped athletes at CSUSM meet their full potential. This year, he is looking forward to taking his track & field team to the California Collegiate Athletic Association (CCAA) Championships held at Cal State Los Angeles in May.
By Rebecca Sykes, CSUSM Sports
When the Mile is mentioned, one legend comes to mind. Steve Scott is considered one of the greatest Mile runners in American history. To this day, the three-time Olympic team member holds the world record for running the Mile under 4 minutes, 137 times.
The renowned Miler-turned-coach has battled and beat cancer in both 1994 and 2014, led the CSUSM women's cross country teams to three national championships from 2009 to 2011 and has mentored hundreds of athletes. This year, he looks to push his team into the national spotlight again.
Scott was not always a runner; he had a love for baseball when he attended high school in Upland, California in the 1970s. In the off season, he had a choice: either take first period physical education or pick another sport. The choices were football, water polo or cross country.
Continue reading at: csuschronicle.com