The Mile Run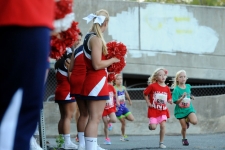 November 22, 2013
I'm suddenly overcome with the desire to run eight laps around a crappy elementary school soccer field as fast as I can.
By Maggie Jenkins, Bad Angel Rules for Running blog
Remember the Mile run?
Cast your mind to elementary school gym class … The things that immediately come to my mind are floor hockey, dodgeball, square dancing — and the dreaded Mile run. My god, did I hate the Mile run.
It's not because I wasn't a fit kid. I straight up did not like to run just for the sake of running. Give me a soccer ball and I'd run all damn day, but doing eight laps around the soccer field, sans ball? Forget it. Besides, all the "cool kids" at least partially walked the Mile, utilizing the extra time to gossip. So, I often found myself going with the crowd. Turns out, I'm not the only one.
A recent study by the American Heart Association shows that children's cardiovascular fitness is declining worldwide. One of the findings: today's kids are 90 seconds slower in the Mile run than they were 30 years ago.
Continue reading at: http://rulesforrunning.com