The Miracle Mile of 1954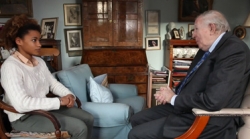 March 11, 2013
By The Commonwealth Games Federation
To mark Commonwealth Day 2013 the CGF is very proud to present a new short film telling the story of what is arguably the greatest athletics race of all time - the Miracle Mile of 1954.
The final of the one-Mile race at the Commonwealth (then called the 'Empire Games') in Vancouver, Canada on Aug. 7, 1954 featured the two titans of middle-distance running in the 1950s; Roger Bannister (England), and John Landy (Australia). Both men were world famous runners, both were at the peak of their athletics careers, and they were the first two men, within the previous six months, to break the 4-minute Mile time barrier that many at that time thought was impenetrable.
Roger Bannister is best known for running the first sub 4-minute Mile on May 6, 1954 in Oxford, England. What many people today forget is that Bannister's record stood for less than two months. It was broken (by over a full second) by John Landy in June. Some argue that Landy's feat was in fact more 'genuine', since he accomplished the time in a actual race without the aid of dedicated pacers. Imagine, then, a situation where the two most famous runners of their day, and the first two men to run a sub 4-minute Mile, were able to face each other down on the track.
Continue reading at: thecgf.com