The Natural: From Cobh to top of the world with Sonia O'Sullivan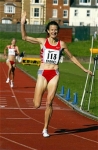 November 29, 2019
In 1994, the Irish running legend was the fastest woman in the world over 1500m, the Mile, 2000m & 3000m, and also set a world record of 5:25.36 for 2000m.
By Cathal Dennehy, Irish Examiner
Safi, a port city on Morocco's Atlantic coast, is not the kind of place you expect to be reminded of the seismic and lasting impact of an athlete from Cobh.
But there I was, sitting in a restaurant on the eve of a half marathon when in walked Hicham El Guerrouj, a two-time Olympic champion, four-time world champion and the fastest 1500m / Mile runner of all-time. A mutual friend soon made some introductions and when El Guerrouj flagged my clear and obvious Irishness, he turned to his friend: "We were just talking about Sonia O'Sullivan an hour ago!"
It says much about the stratospheric altitudes Sonia once reached that two decades on from her peak, she was still a topic of conversation on a random Saturday night between two Moroccans, one of them the most successful Miler in history.
But that's Sonia, an athlete whose dominance was once so dictatorial that it's hard to fathom for the current generation. How to describe the astronomical odds that a kid from Cobh would grow up to become not just the world's best middle-distance runner, but the world's best female athlete — in any event?
In 1995, that's what she was deemed by Track & Field News, the so-called bible of the sport. Ethiopian great Haile Gebrselassie won the men's award, an illustration of the company with whom she held equal footing.
Those years, in the mid-90s, were O'Sullivan's greatest — an era when the concept of defeat was as outrageous for her as it was years later for Usain Bolt or Eliud Kipchoge.
Hers was a talent that bloomed early and grew steadily. Best of all, it was always believable. Trace the curve of Sonia's progression and you'll see it never took the unexpected twist in performance that causes followers of the sport to raise eyebrows for all the wrong reasons.
The performances were astonishing but within the realm of realistic, subject to fluctuations that made her distinctly human. She was as vulnerable and as likely as the rest of us to have a howler on any given day. Many times she did.
Continue reading at: irishexaminer.com