The Next Chapter: Alan Webb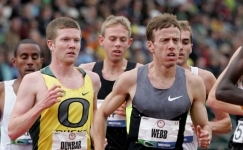 October 22, 2012
By Doug Binder, Armory Track
As Alan Webb drove into the teeth of a North Dakota rainstorm last Wednesday night, the U.S. record holder in the Mile was looking forward to new horizons on his latest trek west.
Webb is a new father and has set his sights on new goals. For more than a decade he has been in the national spotlight, but satisfaction with his career has proven elusive.
"I've been doing this for a long time," Webb said. "I don't want to waste my time. I'm moving up and going to do some longer stuff."
Webb was driving back from Charlottesville, Va., to Oregon, and the enclave of Nike-supported runners in the Portland area, as he discussed his future. He said he was unsure of the specifics of who will coach him and how, but was looking forward to returning to a group of friends.
Continue reading at: armorytrack.com