The Triumph That Inspired Kenyan Runners to Be Great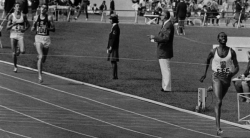 August 11, 2012
Kip Keino beat the favored Jim Ryun in the Olympic 1500 meters in 1968, the first chapter in Kenya's success story in distance running.
By William C. Rhoden, New York Times
In the fall of 1968, I was a college freshman on a football scholarship at Morgan State in Baltimore; Kevin Thompson was a sixth grader living in Harlem. Despite our age difference, we each remember the Mexico City Olympics and the polarizing, often bloody events leading to them.
Continue reading at: nytimes.com