The Underdog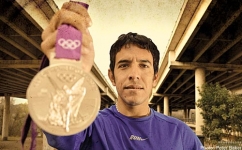 April 30, 2013
Leo Manzano's Olympic silver medal hasn't changed his perspective
By Phil Latter, Running Times
Leo Manzano's silver medal in London last summer might have been the American dream come true, but it didn't change his perspective: He's still the immigrant kid, working hard and clawing his way up. And there's plenty of fight left in him.
It's 2:30 on a Saturday afternoon in January, and Leo Manzano lies face down on a massage table in the office of Kiplimo "Kip" Chemirmir's townhouse in North Austin, Texas.
"Office" is perhaps a misstatement. Kip's massage table sits in a converted dining room that's sectioned off from the rest of the townhouse by a series of large national flags. Racing mementos dot the room, mostly obscuring the diagram of the skeletal system affixed to the wall. "Access Hollywood" plays in the background. When Manzano arrived a half-hour earlier, Kip was napping on the sectional couch that doubles as his waiting room. It's the weekend, after all.
"This is the worst job to have in Kenya," Kip says, leaning into Manzano's left hamstring. "People will follow you around, line up outside your door 24/7. Sometimes they don't have money, so they bring you a chicken. Or they bring you a cow and say, 'That's two months' massage.'"
Continue reading at: runningtimes.com