Through the years at the Prefontaine Classic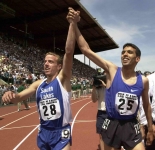 May 29, 2014
Alan Webb steals 2001 Pre Classic; "It's kind of a point of pride for us, that we have more sub-4-minute Miles than any other meet."
By Chris Hansen, Register Guard
For four decades the Prefontaine Classic has been bringing the best track & field athletes in the world to Hayward Field for one brilliant meet.
And what a run it's been.
Eight days after the death of the legendary Steve Prefontaine in 1975, the Hayward Field Restoration Meet changed its name to honor the late distance runner, and after some tough years early on, the Pre Classic is widely considered the best track & field meet in America, and possibly anywhere.
The two-day meet, now in its 40th year and fifth as a member of the IAAF Diamond League series, is this Friday and Saturday and will include at least four world record holders, countless American record holders and some all-time greats.
They'll be competing in the shadows of some classic performances, memorable moments and milestones that have made the Pre Classic what it is today, including these 10:
Alan Webb: A prep star crashes the party
A scintillating surge from the prep phenom, a deafening roar from the crowd, and a national record falls. In what is considered by many to be the greatest moment in Pre Classic history, Virginia high schooler Alan Webb lit Hayward Field on fire with a 3:53.43 Mile on May 27, 2001, breaking Jim Ryun's prep record of 3:55.3 set in 1965.
"On the backstretch of the last lap this high school kid takes off and starts running past world class Milers, and it was the loudest I've ever heard Hayward Field," remembered Tom Jordan, who took over as meet director in 1984. "It was tremendously exciting." Webb came in fifth place, behind the great Moroccan star Hicham El Guerrouj, who finished with the fastest time ever clocked on American soil, 3:49.92. But it was Webb who stole the show, coming from the back-of-the-pack with a 55-second final lap.
"I wouldn't race him in a Mile," said sprinter Maurice Greene, then the world record holder in the 100, after congratulating Webb. "He didn't look like no high school dude."
Continue reading at: http://registerguard.com