Tuohy, Rizzo win Loucks Games Mile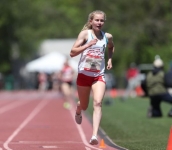 May 12, 2019
Teen talent Tuohy, whose race was held during a gusty wind, redirected her attention from running fast to just winning
By Nancy Haggerty, Rockland / Westchester Journal News
WHITE PLAINS -- They didn't set personal records. But in a meet featuring nearly 3,000 athletes from 11 states, plus Canada, standing atop the podium was huge.
North Rockland's Katelyn Tuohy claimed her third Loucks Games statue in a year by winning the girls Loucks Mile Saturday, clocking 4:46.24.
Throwers Anthony Harrison of Ramapo and Kira Lindner of Horace Greeley claimed their first by winning the boys & girls discus, respectively, with huge heaves, despite an unhelpful wind.
And Matt Rizzo, who earlier this year won the Millrose Games boys Mile, came from behind to win the boys Loucks Mile in 4:15.38.
Then he went out and anchored Bronxville's 4x800 relay in what was supposedly a slower heat.
Continue reading at: lohud.com