Tuohy wins Mile but may pass on Millrose Games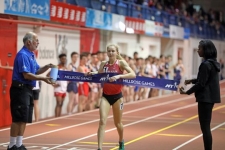 January 10, 2019
Teen talent now 6th fastest U.S. high school girl for the indoor Mile
By Nancy Haggerty, Rockland / Westchester Journal News
NEW YORK – At the end of eight laps, Katelyn Tuohy sounded as if she could run another lap.
Maybe all eight again.
Forget that the North Rockland junior, who was never challenged during Wednesday's New York Road Runners Millrose Games Trials girls invitational Mile qualifier, had became the sixth fastest U.S. girl for the high school indoor Mile ever (#3 high school-only).
Tuohy and just about everyone else at The Armory knew she could have gone faster than her 4:39.15.
"Today was all about getting a race in," Tuohy said. "My goal was consistent 35s (35-second laps) and working on my finishing speed."
The latter, she said, will be important for big upcoming races.
But despite her finish, Tuohy, whose time was the best in the country for high school girls this season, left unclear whether the Saturday, Feb. 9 112th Millrose Games will be one of those races.
Continue reading at: lohud.com