Two friends from the same Central NY high school could face off at NCAA track finals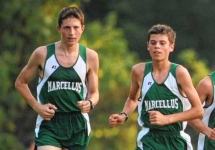 March 09, 2015
Sub-4 minute Milers entered in 800 meters at indoor national championship hosted by Arkansas
By David Figura, Syracuse Blog
Although they were separated by two years of age, runners Jesse Garn and Ryan Manahan constantly pushed each other as cross country and track teammates at Marcellus High School.
In a little more than a week, the former Mustang teammates will likely be pushing each other again - but this time as competitors at the NCAA Indoor Division I Track and Field Championships at the University of Arkansas in Fayetteville on March 13-14.
Both runners have broken the 4-minute Mile barrier while in college - an eye-opening accomplishment for graduates and teammates of a small (Class B) Central New York high school. It doesn't stop there, though.
Continue reading at: blog.syracuse.com