U.S. Olympic Track & Field Trials: Front-running Morgan Uceny's ready to race the world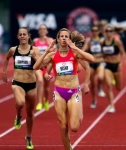 July 02, 2012
By David Woods, The Register-Guard
Since the Olympic Games introduced the 1,500 meters for women in 1972, the race has been dominated by Eastern Europeans and Africans. No American has ever won a medal.
Not Mary Decker Slaney. Not Suzy Favor Hamilton. Not Ruth Wysocki. Not Francie Larrieu. Zip.
Morgan Uceny, Shannon Rowbury and Jenny Simpson aim to remedy that in London.
"I can't think of a better women's 1,500-meter team to be sending," Rowbury said. "Watch out, world."
Continue reading at registerguard.com