U.S. Olympic Trials Blog Day 1: I'm in!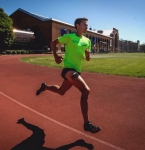 July 07, 2016
And now I'm here... with the chance to earn a spot representing the United States in the Olympic Games. And it almost didn't happen...
By Lex Williams for RRCA.org
RRCA Roads Scholar Lex Williams (2011) is competing in the 1500m at the U.S. Olympic Trials this week in Eugene, OR. Lex also developed as a runner through the RRCA member Ann Arbor Track Club's Youth Division. ​He is blogging about his experiences and has graciously allowed the RRCA to share these written reflections.
I guess you could say that my journey to making the 2016 Olympic Trials in the 1500 meters started in 1997, when I had my first elite track & field experience. I started running when I was 10-years-old through the Hershey track & field program. I found success with it, and loved to see how hard I could push myself. I also loved the fact that - with practice - I could improve my times. The following winter, my mom signed up my sister and I for Ann Arbor Track Club practices at the University of Michigan indoor track building. A couple months later, I competed in the AAU National Championships with the AATC and won the national title in the 1500m. That experience was 19 years ago, but I distinctly remember being excited about how big the medals were, and how much fun it was to double back in the 3000m and triple back in the 800m! But probably the most important memory was that I, 10-year-old boy, chose to go to a track meet over the league championship game with my hockey team.

It's been a heck of a journey since then.... Running for Dexter high school and winning their first cross country state title in school history, running for coach Ron Warhurst at the University of Michigan, missing out on the 2008 Olympic Trials by two places, moving to New Hampshire in pursuit of the 2012 Olympic Trials, undergoing foot surgery, knee surgery, giving up on my own running at an elite level, coaching at Illinois State University, rediscovering that my own competitive fire was still there, and moving back to Ann Arbor in pursuit of the 2016 Trials.
Continue reading at: www.rrca.org