Uceny Seeks Fresh Start with Return to U.S.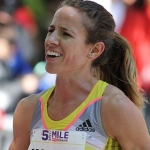 September 23, 2013
A disappointing track season ends with strong road Mile results; looking ahead to 2014 and beyond
By Peter Gambaccini, Runner's World
Morgan Uceny, the #1-ranked female 1500 meter runner in the world in 2011, had worked with coach Terrence Mahon as part of the Mammoth Track Club in the mountains of California. Late last year, she, Anna Willard and Mahon's wife, Jen Rhines, followed him to Great Britain, situating themselves in Loughborough, England, when Mahon took a job as lead endurance coach of British Athletics. Last week came the news that Mahon is leaving that position and returning to the United States.
So is Uceny. "I've known for a few weeks it was all happening," she said in New York on Friday, referring to Mahon's decision. "So when I came here yesterday, I had packed all my stuff to bring with me. I'm not exactly sure where I'm going yet" for the long-term, at least. "The plan is to go on vacation for a few weeks, home [to Indiana], and then I'm going to go out to Mammoth Lakes and do my altitude training in the fall." But after that, said Uceny, "I'm not exactly sure where I'm going back to."
She does know what she aspires to do in 2014, a year without a global outdoor track championship. "I'm actually really looking forward to indoors, and making the indoor World team is kind of my main goal," Uceny said. "I might not take as long of a break as I usually do and try not to gain as much weight as I usually do -- try and keep some kind of semblance of an athlete there so I can come back in better shape."
That gently self-deprecating comment was a bit easier for Uceny to make well into September than it would have been earlier in summer. On September 14, she had won a Mile – mostly a road Mile, with a track finish – in 4:33.97 at Newcastle's Great North CityGames, defeating a field that included 2013 World Championships 1500 meter bronze medalist Hellen Obiri of Kenya. 'It's really nice getting a win in a good field after I've had such a frustrating season," she commented.
Continue reading at: www.runnersworld.com