UK's greatest all-round men's middle distance runner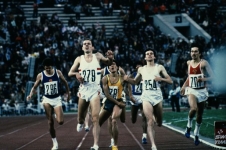 March 28, 2023
Which Briton had the greatest middle distance range? Steve Ovett tops Athletics Weekly men's list
By Steve Smythe, Athletics Weekly
In our November 2022 monthly issue, we pondered who is the best British all-round middle distance runner in history based purely on 800m, 1500m and 3000m PRs?
Using average pace per lap over the three distances to equalize the distances, it was Jake Wightman who narrowly came out as top man.
Below we list the updated top 12 as indoor marks for Josh Kerr and Neil Gourley have advanced their position and we also bring 5000m times into the equation with a second list.
However, it is clear that the stats that produced the lists are heavily weighted to current day runners with better shoes, tracks, opposition and pacing.
Therefore, we here make a choice on who are the most versatile runners not on lap times but on the athletes' competitive records.
While the initial list was focused on 800m, 1500m and 3000m, we have widened it to include 5000m and a lesser extent longer races. This is not who was the best 800m and 1500m runner – that would be Sebastian Coe, but it's his great rival from Moscow, Steve Ovett, who is our UK #1.
#1 STEVE OVETT
When an athlete first wins a World Cup and European 1500m titles, then an Olympic 800m and then a Commonwealth 5000m then it's clear he has a special range. While initially showing no appetite for records, he also set a world 2 Miile best (defeating multiple world record-holder Henry Rono in 1978) and later set a number of 1500m and Mile world records.
But the Brighton-born athletes versatility goes much further as he won the very first Dartford Half-Marathon in 1977 from Olympic marathoner Barry Watson. I was also in that race though admittedly only saw the eventual winner for about 800m.
Then a midsummer race, he made a late decision to run when a flight to the Highland Games was cancelled so he went along with his training partner Matt Patterson. He ran 65:38 a few weeks before his World Cup 1500m UK record breakthrough.
He originally showed astonishing range as a junior. He won an English Schools 400m title in 1970 and AAA Youth 400m titles in 1971 and 1972 and finished his junior career with a huge win in the English National Cross Country over six miles in 1975.
Additionally he won an European junior 800m title in 1973 (ahead of future world champion Willi Wulbeck) and then a senior silver at the age of 18 in 1974.
Altogether he ran in seven global finals from 800m to 5000m.
#2 SYDNEY WOODERSON
As some of his best times were recorded more than 80 years ago, they don't compare with modern day runners, but if you focus on the era and the effect of the time, the bespectacled and slight Blackheath Harrier is the only athlete who can compete with Ovett in range.
While Ovett won Olympic gold at 800m, he never set a world record at the shorter event, but Wooderson set records at 800m (1:48.4) and half-mile (1:49.2) in 1938.
He also set a Mile world record the year before of 4:06.4 in a Handicap race, again at Motspur Park.
He was injured at the 1936 Olympics when in form to medal and World War II accounted for 1940 and 1944, but he did win European 1500m gold in 1938.
Ill in 1944 and 1945, he was told he would never run again due to serious rheumatism and was in hospital for four months, but later in the year he set British Mile and 1500m records and gave world record holder Arne Anderson a good race.
He moved up distances in 1946 winning the European 5000m title in a UK record 14:08.6 defeating future Olympic champions Emil Zatopek and Gaston Reiff.
He ended his career with a win in the English National Cross Country Championships over 10 miles in 1948.
#3 STEVE CRAM
Cram's range doesn't quite match Ovett's and it was at 1500m and Mile that the Jarrow Arrow had nearly all his own successes. He won a world title, Olympic silver and two European and two Commonwealth golds and set 1500m and Mile world records and was the first runner to break 3:30 for 1500m.
Cram's 800m career was relatively modest, but three times he ran the world's fastest time in 1982, 1983 and 1986, and in the latter year he won a Commonwealth gold and a European bronze.
At longer events, he set a 2000m world record, won a European junior 3000m title, came close to the world 2 Mile best and won a UK 5000m title when he set his 13:28.59 PR.
His cross country form never matched Ovett's, but he won a Northern title in 1985 and his road race PRs included 28:23 for 10K and 65:33 for half-marathon. He was in better shape in recent years than his contemporaries and the highly regarded commentator ran a 87 half-marathon at the age of 60.
To see #4-12 men and lists per combined lap times, continue reading at: athleticsweekly.com