Welcome back, Leo!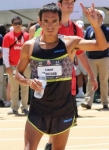 July 02, 2014
"I stepped off the track and thought. I don't have the support or the guidance. Okay, what's next? Am I truly done?"
By SPIKES powered by IAAF
You would imagine winning an Olympic silver medal might open up a welter of opportunities and untold riches. Not for Leo Manzano, whose 18 months following his London 2012 success proved a real life challenge. Here's his story – but don't worry, it's got a happy ending!
Having pocketed Olympic 1500m silver at the London Games, and three months later celebrating the birth of his first child, 2012 should have been the perfect year for U.S. middle-distance star Leo Manzano.
Instead the polite and softly-spoken Texan bafflingly ended the year without both a sponsor and a coach, which was to usher in 18 months of frustration and disillusionment with the sport.
It all seemed a boyhood dream when the Mexican-born athlete, who arrived in the USA aged four, dazzlingly outsprinted Matthew Centrowitz to take 1500m victory at the U.S. Olympic Trials before recovering from tenth at the bell to snare an unexpected silver medal in the Olympic Stadium.
Continue reading at: http://spikes.iaaf.org