Olin Hacker follows in the family footsteps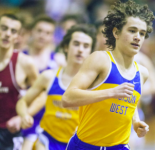 July 07, 2015
I knew my dad ran at Wisconsin and part of me always wanted to go there.
By Jon Masson, Prep Sports Wisconsin
Olin Hacker is not intimidated.
Rather, he is excited to follow in the footsteps of his father, Tim, who was a cross country and track champion at the University of Wisconsin.
Tim Hacker's fourth-place finish helped UW to its first NCAA cross country championship in 1982, and his individual national title led the Badgers to another cross country team crown in 1985.
"It's been my dream to go to Wisconsin for a while," said Olin Hacker, who selected UW over Stanford.
Hacker just completed his senior year at Madison West High School, wrapping up a standout high school career — capped by his selection as the Wisconsin State Journal/WisconsinPrepZone.com Boys Athlete of the Year for 2014-15.
Last fall, he won the WIAA Division 1 state cross country title for the second consecutive year, leading the Regents to the state team championship. In June, he finished first in the 1600 meter run and defended his 3200 title at the WIAA Division 1 state track & field meet.
In the meantime, Hacker challenged himself with globetrotting appearances in national and international competitions.
He placed second at the Nike cross country national championships in Portland, Oregon, and second at the Foot Locker national cross country championships in San Diego, both in December. In January, he finished third in the junior men's 6000m race in an event in Scotland.
In June, he came in ninth in the invitation-only adidas Dream Mile in New York City (4:09), and followed that a week later by taking 13th in the Brooks PR Invitational two-mile run (9:03.09) in Seattle.
"My goals were to defend my state title and I wanted our team to win the state title in cross country," said the 18-year-old Hacker. "It far exceeded my expectations. In track, I wanted to win the Mile and the 3200 at the state meet. To have done both, I'm really happy."
Before Hacker begins his Badgers career, he takes with him many memories from Madison West, including numerous victories and records — specifically mentioning breaking his school's record in the 3200.
"I am going to miss running for Madison West," Hacker said. "I've had so much fun there. I think back to the first day of practice every year. Coach (Tom Kaufman) would give us a long speech every year.
"Then he'd look us in the eye and tell us before we'd run, 'Don't take too long.' I will miss that. I will miss my teammates. I will miss (West teammate) Jack Wellenstein, who I've known since we were 5. We played soccer together, for the (Regent) Stompers. He's going to run at Minnesota, so he'll be a rival."
Hacker's family ties to UW weighed into his decision to become a Badger. In addition to Tim Hacker's NCAA success, he also won three Big Ten Conference individual titles and was a four-time NCAA All-American.
Continue reading at: host.madison.com