What runners can learn from Jenny Simpson and Vincent van Gogh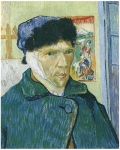 November 28, 2017
"He looked in the mirror and executed to the best of his skills; the brush strokes and color combinations he used; how he composed himself looking straight into the mirror. If you are willing to do that, you can be good at what you do."
By Mike Sandrock, Daily Camera
Many runners like to combine running with a European summer vacation. Count Jenny & Jason Simpson among them.
When the couple had a break from the European track season, after University of Colorado grad Jenny Simpson had taken the 1500 meter silver medal in the 2017 London World Championships, she and her husband, Jason, knew exactly where they wanted to go: Amsterdam, where Simpson was able to recharge after racing in Brussels at the end of the European track circuit.
"I always visit the Van Gogh museum when we are in Amsterdam," Simpson said.
What was reinforced for her during this visit was the importance of "knowing yourself," something she was moved to reflect upon when viewing an exhibit of some of the 43 self-portraits the Dutch artist created during his short life.
Simpson used her break in Amsterdam — "one of our favorite cities" — to refresh and regroup before going on to win the New York City Fifth Avenue Mile, a race that capped her stellar season and was a highlight of the 2017 Boulder running scene.
Continue reading at: dailycamera.com