Wightman defends, Muir wins New Balance 5th Avenue Mile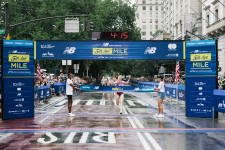 September 11, 2022
Record 21 men sub-4 minutes and 18 women sub-4:30; NYPD Running Club and charity runners participate in 9/11 Memorial Mile; more than 8,500 finishers at world's largest, most iconic road Mile
From NYRR
NEW YORK – Olympians and World Championships medalists Jake Wightman and Laura Muir led a British-Scottish sweep of the professional athlete titles at the New Balance 5th Avenue Mile on Sunday, with Muir breaking the women's event record. The 5th Avenue Mile – the world's most iconic Mile road race since 1981 – stretches 20 blocks down Manhattan's most famous thoroughfare and featured one of the strongest professional athlete fields in recent history.
Under a light rain at the 41st edition, Muir, 29, an Olympic silver medalist who already won a World Championships bronze, European Championships gold and a Commonwealth Games gold & bronze this summer finished first in 4 minutes, 14.8 seconds, breaking 8-time champion Jenny Simpson's event record of 4:16.1 from 2019.
"This was the last race of my season and it was hard, but I kept thinking to myself 200, then 100 meters to go to get to the line," Muir said. "I did all I could to leave it all out there."
American Nikki Hiltz finished as the runner-up for the second consecutive year, clocking 4:17.4, followed closely by American Eleanor Fulton in 4:18.0, both setting personal bests. Last year's champion Jemma Reekie of Great Britain was fourth (4:18.3). All their times entered the top 10 in event history.
Overall, a record number of women went sub-4:30 and sub-4:20 in the same race (road or track), 18 and 8, respectively.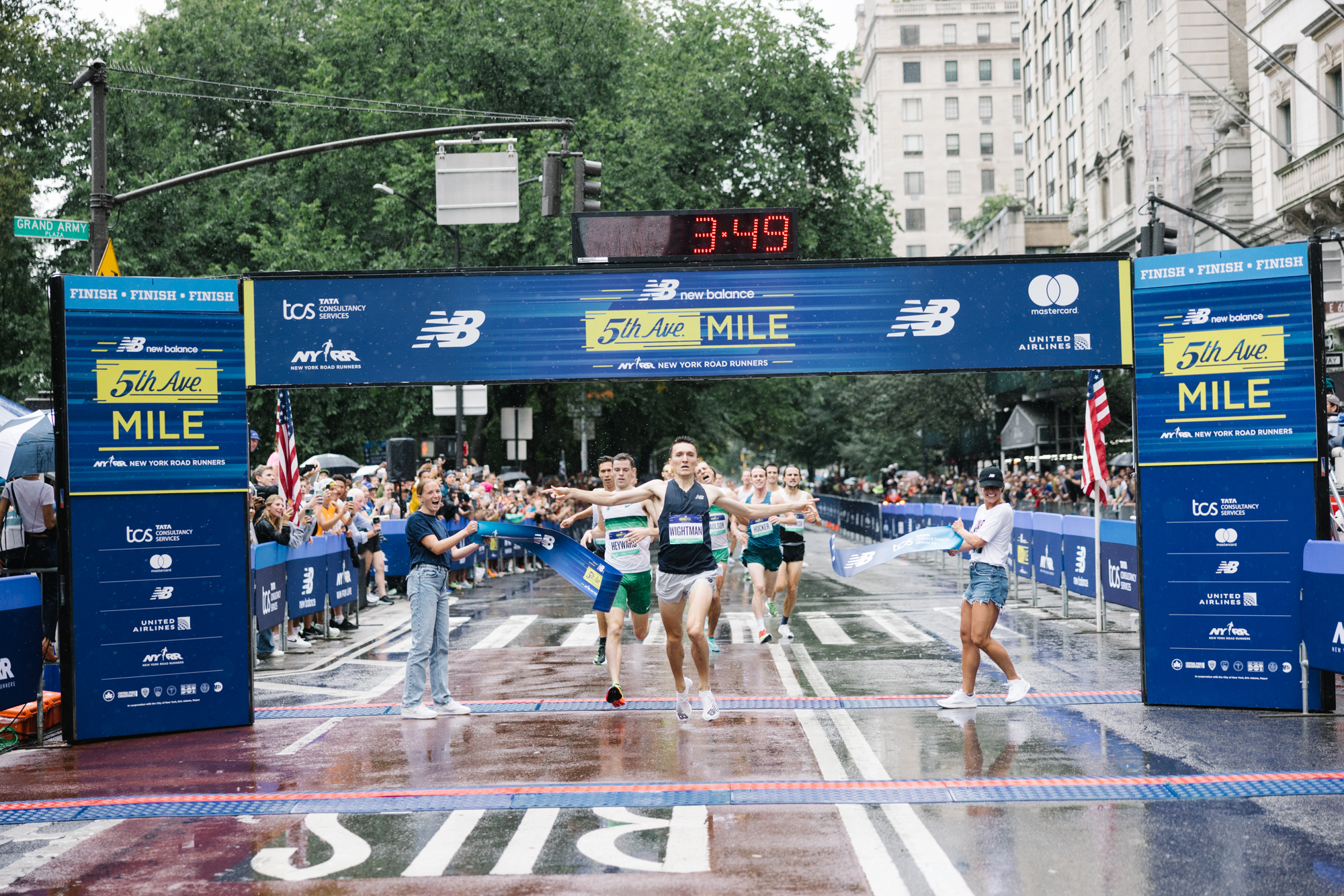 Wightman, 28, who won World Championships 1500 meter gold medal in July, won his second consecutive and third New Balance 5th Avenue Mile title in 3:49.6 – the 10th fastest time in race history. Great Britain's Jake Heyward and American Sam Prakel were second and third, respectively, in 3:49.6 and 3:50.4.
"I couldn't have asked for it to go any better, to finish my season here at my favorite meet of the year," Wightman said. "The chance for me to be able to celebrate the end of my season here in New York is fantastic."
Overall, a record 21 men ran sub-4 in the same race (road or track).
The 2022 event paid out $34,000 in prize money to Open runners ($32,000 including a $1000 prime per gender awarded to the leader at the halfway mark) and New York Road Runners members ($2000).
The New Balance 5th Avenue Mile had more than 8,500 finishers this year, the largest road Mile in the world. In addition to one of the strongest professional athlete fields in recent history, this year's event featured a 9/11 Memorial Mile with NYPD runners and participants from Answer the Call Foundation and Tunnel to Towers Foundation, as well as a Back to School Mile for youth ages 2-18, a George Sheehan Memorial Mile for seniors and NYRR Road Mile Championship heats.
In partnership with NYRR and USA Track & Field, the event had a one-hour live national broadcast on NBC.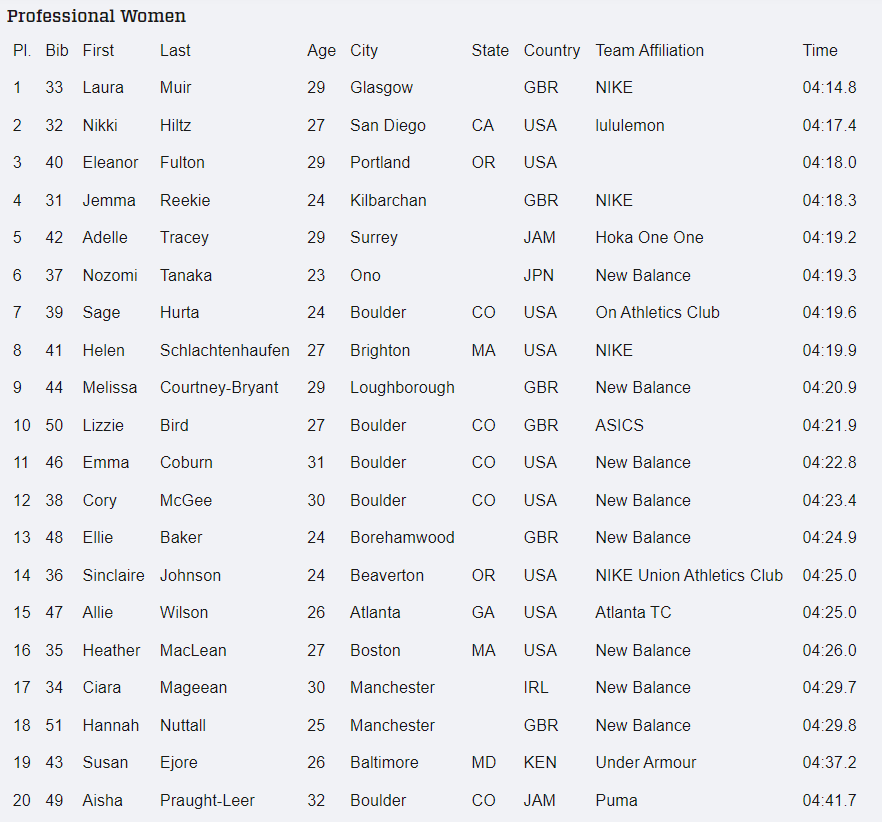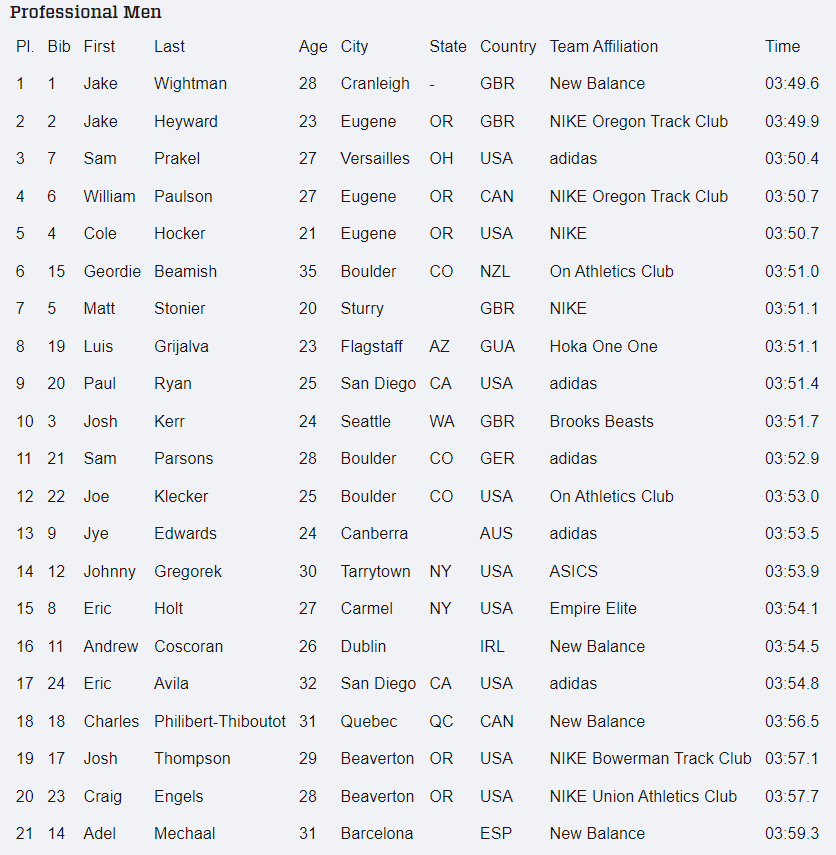 Photos courtesy of NYRR