Willis sets sights on two medals at Commonwealth Games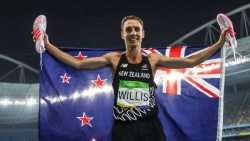 December 26, 2017
"Patience is the main thing I'll take away from 2017 — to trust my training and not get too disillusioned after not getting the results I want in each race."
By Niall Anderson, New Zealand Herald
On the surface, Nick Willis seems to have set himself some improbable targets for his fourth trip to the Commonwealth Games.
The New Zealand middle distance runner is targeting a medal in the 1500m and 5000m at the 2018 Gold Coast Games in Gold Coast, Queensland, Australia — a goal which seems daunting.
Only twice has someone won medals in both events at the same Games — Kenyans Kipchoge Keino in 1970 and Ben Jipcho in 1974.
Forty years on, competition is much tougher, and Willis couldn't do the double in 2014 in Glasgow, where he claimed bronze in the metric Mile but finished 10th in the 5000m.
However, Willis has nothing to lose. He has already proven a modern great over 1500m, with three Commonwealth and two Olympic medals, and his horizons have widened.
But how do you attack such a formidable obstacle? Willis has a new strategy, modified with the knowledge of what didn't work in Glasgow.
Continue reading at: nzherald.co.nz