Work, rest and play: Mile ace Nick Willis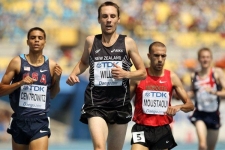 July 07, 2014
"My third favorite thing has been the opportunity to really experience getting 100 per cent out of myself as a runner."
By Steve Landells, IAAF.org
Nick Willis, the 2008 Olympic 1500m silver medallist, is among the world's best middle-distance runners.
The 31-year-old has been in the form of his life this year, setting personal records for the Mile indoors (3:53.02) and out (3:49.83) and the 5000m (13:20.33), as well as breaking the New Zealand 3000m record with 7:36.91 at the IAAF World Challenge meeting in Ostrava.
The U.S.-based runner is expected to be part of the Asia-Pacific team at this year's IAAF Continental Cup later this year. Here he offers a glimpse into his life by answering our work, rest and play questions.
NICK AT WORK
What is your favorite training session?
Nick Willis: I prefer hill reps to training on the track. A favorite workout of mine is a 3 x nine minute loop I do close to my locality. The first 800m is flat, which I run at a tempo pace, and the last 1000m is uphill. I love that because I can go as hard as I like on the hill and reach a point of complete exhaustion, but then the next day you feel good again because I am not pounding my legs as to the same extent (as running on a flat track).
Continue reading at: www.iaaf.org