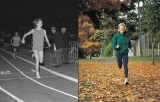 March 25, 2017
In March 1967, the indoor Mile world record holder became the first women's international cross country champion.
By Roger Robinson, Runner's World
One of America's greatest distance running talents had one major flaw: She was too fast for her time.
Up until 1967, the longest race for women...
Read More
comments