Camel City Elite Fields Set for February 1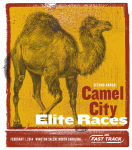 January 29, 2014
Elite Fields in Men's and Women's 800, Mile and 3000; headlined by Nick Symmonds
WINSTON‐SALEM, N.C. – Nick Symmonds will headline the Camel City Elite races to be held at JDL Fast Track on Saturday, February 1, 2014, as part of the Hilton Garden Innvitational. With assistance from the Camel City Crowd Fund, JDL Fast Track will be awarding nearly $23,000 in prize money, time bonuses and rabbit fees in six races – men's and women's 800m, Mile and 3000m.
The Camel City Indoor Mile races are also the first stop on the inaugural Bring Back the Mile Grand Prix Tour 2014.
Pick-the-Winner Contest presented by Running Warehouse
Symmonds, the 2013 World Champs 800m silver medalist, will be joined by many of his new Brooks Beasts teammates, including Casimir Loxsom and Mark Wiezcorek in the 800m race. Brooks will also be represented in the men's Mile by 2013 USA Outdoors 4th place 1500m finisher Matt Elliott and Riley Masters, and in the women's 3000 by Angela Bizzarri, Addie Bracy, Jamie Cheever, Deb Maier and Jessica Tebo.
Other notable entries include ASICS-sponsored athletes Miles Batty (Mile) - scratch (ill) and Heather Kampf (800) as well as Nike‐sponsored Phoebe Wright (800) and unattached Brie Felnagle (Mile). Maggie Vessey (800) and Oiselle‐sponsored athletes Lauren Wallace (800) and Amanda Mergaert (Mile) are also competing. Also, Furman Elite, a professional training group led by Olympian Robert Gary, is sending a number of athletes to compete, including Nicole Bush (Mile) and Michael Hammond (Mile).
The Camel City Elite fields will also feature collegiate athletes looking to obtain qualifying marks for NCAA indoor nationals. Colleges represented include Duke, North Carolina and Auburn. The men's Mile features two‐time NCAA runner‐up at 5000m outdoors Paul Chelimo of UNC‐Greensboro. The women's 3000 features 2011 NCAA 10,000m champion Juliet Bottorff of Duke.
"What started last year as one race to inject some excitement into a college meet has quickly grown to 6 races that are now an opportunity to showcase our facility and our city," said David Shannon of JDL Fast Track. "We look forward to hosting these great athletes and showing them some Southern hospitality as a means to grow this meet via word of mouth in the elite athlete community. We want to be a destination that elite athletes want to come run."
"My training at altitude has been going quite well," said Symmonds. "I am sharper than usual at this point in the season. I am very excited to test my speed alongside several of my Brooks Beasts teammates at the JDL Fast Track on February 1st!"
The Camel City Elite races will begin at 2:45pm with the women's 3000, followed by the men's 3000 at 3:00pm. The finals of the 60m Dash will be next, followed by the women's Mile at 3:25, men's Mile at 3:35, women's 800 at 3:45, and finally the men's 800 featuring Symmonds will run at 3:55pm.
As of January 29 the Camel City Mile fields include:
MEN'S MILE
Miles Batty – BYU grad – '11 NCAA indoor mile champ ‐ former NCAA indoor Mile record holder – 3:54.54 PR (scratch - ill)
Paul Chelimo – UNCG senior – 2x NCAA runner‐up at 5000m outdoors – 3:40/4:02 PRs
Donnie Cowart – rabbitted inaugural Camel City Mile – 4th place in '12 Oly Trials steeplechase
Matt Elliott – 4th place at '13 USA Outdoor Nationals – 2nd at inaugural Camel City Mile – 3:36.61 1500 PR
Kane Grimster – Auburn junior – 3:45 1500m PR – 9th place at SEC XC Champs
Michael Hammond – former All‐American at Virginia Tech – 3:58 PR
Simon Holden – Wake Forest freshman
Dylan Lafond – Division II runner at Mt Olive – Mile PR of 4:12
Riley Masters – former All‐American at Oklahoma – 3:56 PR
Duncan Phillips – 7‐time All‐American at Arkansas – 3:56.27 PR
Isaac Presson – UNC senior – '13 ACC runner‐up at 1500m outdoors – 3:40/3:58 PRs
Chris Schulist – Campbell senior ‐ ran 3:45.92 for 1500m outdoors
WOMEN'S MILE
Charlotte Browning – 2010 NCAA indoor Mile and outdoor 1500m champ – 4:31 PR
Nicole Bush – Michigan State grad – member of '13 World Champs team in steeple – 4:36 PR
Brie Felnagle – UNC grad – NCAA champ at 1500m – 4:04 1500m PR
Stephanie Garcia – UVA grad – member of '11 World Champs team in steeple – 4:45 PR
Heidi Gregson – Iona grad – will serve as rabbit – has 2:05/4:36 PRs
Amanda Mergaert – '13 Utah grad – 4:13 1500m PR
Sara Vaughn – Colorado grad – member of '12 World Indoor team at 1500m – 4:29 PR
About JDL Fast Track (www.jdlfasttrack.com)
JDL Fast Track, one of the premier indoor track and field facilities in the southeast, is the brainchild of two former Wake Forest University runners and current real estate developers, David Shannon and Craig Longhurst, who identified and fulfilled a need for an area indoor track facility for use by colleges, high schools, local track clubs and youth track organizations.
JDL Fast Track will play host to multiple NCAA Division I and Division II conference meets in 2014, as well as serving as the host for the NCAA Division II Indoor Track & Field Championships. In 2015, JDL Fast Track will host the NCAA Division III Indoor Track & Field Championships and USATF Masters Indoor Track & Field Championships, and in 2016 will host the NJCAA Indoor Track & Field Championships.
The privately owned, dedicated indoor track and field facility, which opened in January 2012, houses a 200 meter oval track with a Mondotrack FTX surface—the same surface that will be used at the 2012 Olympic Games in London. Field event areas include two pole vault runways, two long/triple jump runways, one high jump apron and one throws area. The facility also includes a 100 meter warm‐up track, office and meeting room space, a training room, and hospitality suites for coaches' or conference officials' meetings at large events. JDL Fast Track has current seating capacity of approximately 1,600, with future expansion possibilities more than 3,000.