Campaign to "Bring Back the Mile" Hits Its Second Lap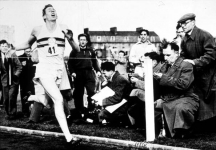 May 21, 2013
A grassroots movement is hoping to rekindle excitement for America's favorite distance.
By Duncan Larkin, Competitor Magazine
Ryan Lamppa lives and breathes the Mile. It's a classic American distance — just over four laps on a 400 meter track — that evokes grainy, black-and-white images of track and field legends like Roger Bannister and Peter Snell hurling their tired legs down a cinder track. And for Lamppa, the founder of the grassroots movement known as Bring Back the Mile (BBTM), it's nothing short of sacred.
Lamppa got the idea to found the organization when he was running around Santa Barbara City College's track that overlooks the Pacific Ocean a few years ago.
While growing up in the late 1960s, Lamppa had become enamored by the likes of Jim Ryun, who became the first American high school runner to break 4 minutes in the classic four-lap race. But in the late 1970s after the passing of the "Metric Conversion Act", high schools began to phase out the Mile in favor of the 1600m race — a distance that doesn't hold the same historical, cultural and media significance as the Mile.
Continue reading at: competitor.com