Jenny Simpson, Nick Willis Win 2015 5th Avenue Mile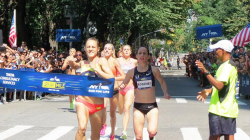 September 14, 2015
"I hope it's been fun for everyone [to watch] because it's really hard, really stressful, but I think it's good for our sport to have [Shannon and I] facing every weekend and battling it out".
By Chris Lotsbom, Competitor
Experience reigned supreme here at the 35th running of the NYRR 5th Avenue Mile, as American Jenny Simpson and New Zealander Nick Willis claimed their fourth and third titles, respectively. Both used late kicks to separate from their competition, breaking the tape in 4:29.0 and 3:54.8, respectively.
After a long season that saw Simpson win the U.S. 1500m national title, narrowly miss setting an American 1500m record in Monaco, and finish a devastating 11th at the IAAF World Championships with only one shoe and a badly bruised left foot, the 29-year-old wanted to conclude her season with a resounding victory here in Manhattan. Having raced two days ago in Brussels, Simpson came to New York a bit fatigued but with more intrinsic motivation than anyone else in the field.
"Anything less than winning here was going to be a disappointment for me, personally, so I said the year would be complete when I really put my nose down and get this one done," Simpson told members of the media.
Continue reading at: running.competitor.com