June 6-10 Mile Guide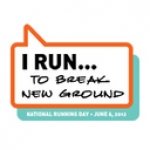 June 06, 2012
By Bring Back the Mile
It's National Running Day! What do you do on NRD12? You get out and run. Check out runningday.org for events near you and to claim your very own social badge. If you want to win some sweet prizes check out Competitor Group's NRD12 challenge.
If you happen to live in the San Diego region, the Summer Nights Track & Field Series (PDF) kicks off today with the Steve Scott Mile at 6:35 PM.
The Week's
Mile Moments
We also have not one, but two Dream Miles this week. Tomorrow, June 7 (3:35 PM EST) at the ExxonMobil Bislett Games, the Dream Mile lines up five guys who have already run under 3:50 for the Mile and another three that have bests of 3:50. You may remember the famous Dream Mile in Oslo between Hicham El Guerrouj and Noah Ngeny, in which both men dipped under the world record with El G claiming the still standing record of 3:43.13. It is arguably the best One Mile race in history and one of our favorite track races period - see it on YouTube.
Also not to be overlooked in Oslo is a stacked Women's Dream 1500 (make it a Mile!). Top four marks in 2012 are represented in addition to America's Morgan Uceny who was ranked #1 in the world last year in the distance. Read the LetsRun.com preview for complete info.
Then on Saturday, the adidas Grand Prix will host the Jim Ryun High School Dream Mile (press release). While some of the qualifying races for some reason were 1600 meters (and in Kansas?) all is forgiven at the grand finale. On the girls side, seven of the fastest eight 1600 meter marks this season are represented. The boys will line up the five fastest Milers of the year along with Ahmed Bile, whom some of you may recognize as the son of Abdi Bile, the World 1500 meter champion in 1987.
Rounding out the weekend is the Festival of Miles in Spokane, WA, which will raffle off a $500 scholarship to both a male and female graduating senior who run the Mile and the College Avenue Mile in New Brunswick, NJ. The College Avenue Mile is a designated RRCA One Mile State Championship.
Finally, we'd be remiss to not include a link to the NCAA Championships (LetsRun.com) this weekend in Des Moines. A special Mile high-five to the legendary Texas A&M Coach Pat Henry who last year tried to push a resolution at the annual coaches meeting to replace the 1500 meters with the Mile. Some people just get it...
For complete schedule of events visit our exclusive Mile Calendar. Did we miss something? Email milemaniac@bringbackthemile.com

National Running Day (All Across America)
Summer Nights Track & Field Series (June 6 / San Diego, CA)
ExxonMobil Bislett Games Dream Mile (June 7 / Oslo, Norway)
adidas Grand Prix Jim Ryun Dream Mile (June 9 / New York, NY)
Festival of Miles (June 9 / Spokane, WA)
College Avenue Mile (June 10 / New Brunswick, NJ)
Thank you! For complete T&F coverage of all the weekend's action check out ESPN Dyestat, Milesplit, Letsrun.com, FloTrack, USTFCCCA, Spiked Up, Psyched Up, Track Superfan and a track near you. Go Mile!