Marathon in Mile ace Willis' future?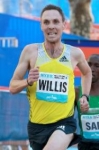 November 12, 2013
2013 NYRR Fifth Avenue Mile champion eyes 26.2 mile distance post-2016 Rio Olympics
By Barbara Huebner, Marathon News Service
The plan had been to pace his friend to the 18-mile mark of the ING New York City Marathon and drop out at a spot from which he could easily jog back to his hotel.
"But I was chafing too badly, so I jumped into a cab," said Nick Willis, the 2008 Olympic silver medalist at 1500 meters, in a recent telephone interview. "I told the driver, 'I have 10 dollars; can you get me back to the Hilton?' He said, 'No worries.'"
It was a weekend of "no worries" for the New Zealander, who the day before the marathon won the NYRR Dash to the Finish Line 5K in 13:46 in front of his wife, Sierra; his four-month-old son, Lachlan; and a group of friends from Spoleto, Italy.
On Sunday, Willis paced one of those friends, 43-year-old Piergiorgio Conti, to a 2:33:17 finish.
Continue reading at: www.nyrr.org